Olympus DS-3500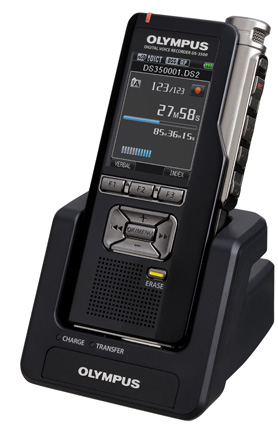 Superior Features Meet Ease of Use
The DS-3500 offers more efficiency and quality in any environment
This sleek, compact recorder offers intuitive controls that are easily managed and completely mobile. With a 5-Star Dragon Accuracy Score in addition to enhanced security features, the DS-3500 is the ideal choice for professionals who need to produce highly accurate and confidential information.
FEATURE HIGHLIGHTS
Progressive Olympus Dictation Management System (ODMS) software that is compatible with Nuance Dragon® NaturallySpeaking and Dragon® Medical Practice Edition 2 voice recognition software
Redesigned, speech-optimized microphone is independently housed for flawless sound reproduction
2-inch color LCD screen
Dual SD and microSD card slots
Up to 32GB of memory space
Password protection and DSS Pro real-time 128- or 256-bit file encryption
Easy location of saved dictation files via index marks that support 32 per voice file
ODMS software is compatible with Microsoft Windows 7, Vista and XP and Mac OS X
The only Olympus Professional Dictation device to support DSS/DSS Pro, WAV and MP3 recording formats
Olympus DS-3500 Review
The Olympus DS-3500 offers a number of high-end features that allow it to deliver a superior recording experience. If your business cares about keeping information confidential, the DS-3500 is a compelling and convenient choice. A separately housed microphone with easily accessible control panel creates precise recording ability, but it is the voice-activated recording option that is most impressive. Called, VCVA, the voice-activated feature ensures that recording takes place only when people are speaking. Recording stops when things go silent thereby saving memory space and ultimately streamlining the playback and transcription process.
You can also record memos at the same time that your recording or simply set up to 32 index points for easier navigation during playback. The Olympus DS-3500 is simple to use and incredibly reliable with up to 26 hours of recording time. If you're looking for accurate recording capabilities, security and an overall easy process, the Olympus DS-3500 will get the job done.