You can program the Dictaphone PowerMic II to perform a User Defined Command such as inserting text or a signature specifically for the Dictation Box in Dragon Medical. In this example, we are going to customize the Custom Right Button of the PowerMic II. This can be done by following the below steps.
Step 1 Open the PowerMic II Options
    1. On the Dragon Bar, click on Tools>Options.
    2. Select the Dictaphone PowerMic II tab.
Step 2 Select the DictationBox Options
    1. Click on the Application drop down box.
    2. Select the DictationBox entry from the drop down box.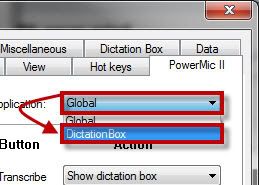 Step 3 Assign the Custom Right Button
    1. Click on the "Custom Right" button (illustrated below in green hilghlight) drop down box.
    2. Hover Mouse over the "User Commands" selection.
    3. Select the desired user defined command.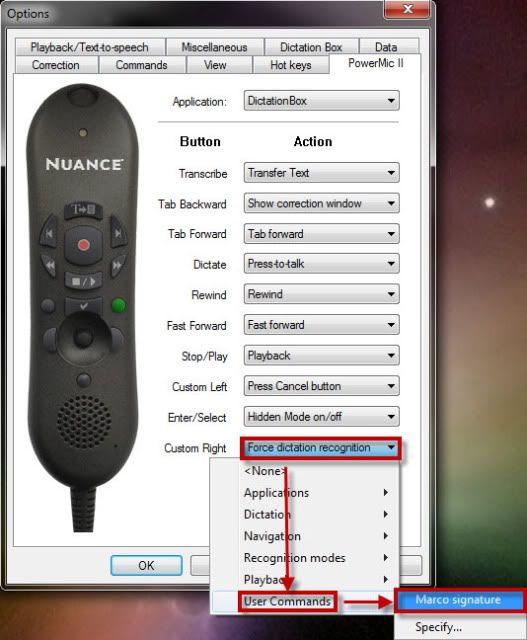 Step 4 Apply and Save the Changes
    1. Click the "Apply' and then "Save" buttons.
Congratulations! Your are done! Now you have the Custom Right Button on the Dictaphone PowerMic II assigned to a custom command. Open the DictationBox and test your newly assigned button.
Verification Source: In-house testing
Test Date: 01-19-12